A  sweet friend of mine recently found out that she can bear children. That's great news, right? And it is, it totally is. We're giddy happy for her. But to say we're also stunned, dumbfounded, amazed, including her, is an understatement.
You see, my friend is a transgender woman. Or was.
I say "was" not because she's not with us anymore. She is. But because a transgender female was what she honestly thought she was. She thought she was a dysphoric male transitioning to her more authentic female form. She'd just had the surgery to remove the gender-dysphoria-making male bits she was born with, had consummated a marriage with, and helped create children with. But in the midst of a somewhat serious complication that necessitated a trans-vaginal ultrasound on her newly surgically constructed vagina, her doctor discovered an intact female reproductive system — including a womb, ovaries, and a cervix.
Let that sink in. Cuz she currently is.
Stop me if you've heard this one. "If you have a penis, you're a male. If you have a vagina, you're a female. XX means female. XY means male. Don't get mad at me. It's not bigotry. It's genetics. It's science."
Now think back to my friend.
You can't tell me it's as simple as XX is a girl and XY is a boy. You can't tell me the presence of male or female genitalia tells us all we ever need to know about someone's gender. You can't tell me we know everything about everything and there's nothing left to discover in this world let alone within our own bodies. My friend, who'd had the shit beaten out of her as a little boy by the one relative she'd trusted enough to confide in that God may have put him in the wrong body, that he should be a girl, and could grandpa please talk to his Mommy and Daddy to help him fix it — this friend, who had been dysphoric and suicidal for years resignedly trying to live life as a male, but since transitioning has bravely and blessedly remained alive and happily married, raising their children together – this friend just found out she's intersex, has been both male and female all along, and may be perfectly able to conceive and bear a child inside her own body – at 40.
We don't know what we don't know, ya'll. So how about we stop acting like we do and give some more damn grace to one another.
Sure, my friend is rare, documented cases-wise. But how rare? I mean, how many men ever get to have or will ever have a trans-vaginal ultrasound?
The complexities of and within our bodies are amazing. Medical research/scientific research is still being done on what causes someone to be or identify as other than the gender they seem to be born with. Our developing bodies and brains are bathed in hormones and enzymes in utero, and even to some extent afterward, that trigger processes we are still discovering and exploring. What's happening with my unicorn friend here should at least give us a clue to the complexities that may be involved.
It should remind us that rare is not a reason to dismiss possibility or to dismiss a real person's humanity. Rare still exists. Rare walks around and has feelings, faith, needs, and rights. No sense in denying that it does and trying to shame or legislate or beat it out of people, deny them entry into bathrooms and changing rooms, deny them membership in our churches, or refuse to perform their weddings. If anything at all, rare should move us to expand our horizons along the planes of love, grace, and acceptance.
"We are gradually coming to understand that gender identity is not necessarily contingent upon ones genitalia, and that those who identify as transgender are not flawed or disordered, but rather experiencing something natural and biologically driven." — Author, Pastor, and Activist — Brandan Robertson.
To which I say, "Hell yeah, they are." And my friend is proof.
I've said it before. I'll say it again. There are broader spectrums within God's creation than some of us are willing to acknowledge, let alone allow. Embrace the rainbow people. Embrace it. And stop trying to use what little you know or think you understand about science to justify your bigotry. Ask any geneticist, science teacher, transgender, or intersex person. They'll tell you, "The world is way too weird for that shit."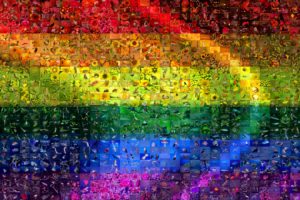 Photo Credits:
Gilberto A. Viciedo — Diversity
https://creativecommons.org/licenses/by-nc-nd/2.0/
(Visited 38,137 times, 1 visits today)