If you're like me, you've seen Chonda Pierce's response to the Women's March shared a time or two in your Facebook newsfeed.
https://www.facebook.com/chondapierce/posts/10154132831081316

One of my friends shared it with me after I shared pics of my daughter and I and friends at our local Women's March.
This is my response.
First off, high five for speaking your mind and sharing your view with a listening world. You go, girl! Big hugs! That's awesome! Let's hold hands, bow our heads, raise our voices, and thank God for the Suffragettes who marched and protested in civil disobedience so that you and I can make our own choices, speak and be heard, VOTE, work if we want, control our bodies, defend ourselves, and defend our families as you've said. The Suffragettes risked their own safety and security to have their say so that we can have ours in safety and security today. So go them! Go us!
And you are so right. There's still a great deal of work to be done. Women are still brutally oppressed and abused in this world today, both here and abroad, which is horrific and should mobilize us all, and which is why it is all the more remarkable that there were rallies and marches on every continent and dozens of countries – each of them neighboring a country where women were NOT free to participate.
As a woman who rallied alongside her newly grown daughter, I can't tell you how moving it was, but I can tell you we took more than responsibility for the work that remains to be done. We took action. My daughter and I stood united with upwards of two thousand on a courthouse square, who stood in solidarity with millions upon millions from around the world, resolved to resist any efforts to take away the rights and privileges you claim for yourself today. Our voices were raised not just for ourselves, not just for our own, but for our neighbors, the voiceless, the silenced, in hopes that they might hear us behind the veils, behind the walls, behind the ideologies and their enforcers that keep them in bondage.
Millions upon millions from at least thirty different countries rallied passionately and peacefully for women's rights, LGBTQ rights, human rights, civil rights, reproductive rights, equality, love, justice, peace, and promised solidarity to resist all efforts to deny them. It was both a beautiful thing and accomplishment enough for day one.
So join us next time. The voiceless just might hear us.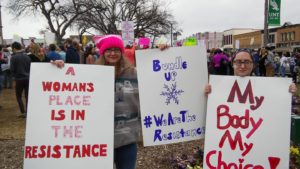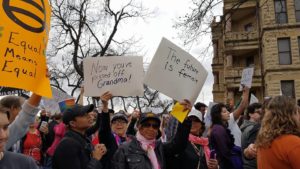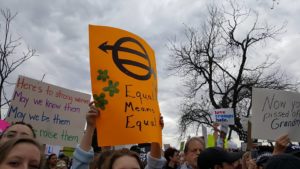 Photo Credit: Anthony Najera — Women's Rally on the Denton Square (Courthouse pic)
(Visited 2,382 times, 2 visits today)